Abstract : The year 2020 was a mixed blessing for China's sports industry.
Ice
hockey lovers take part in training at a rink in Zhangjiakou economic
development zone in Zhangjiakou, north China's Hebei Province, Dec. 12,
2020. In recent years, Zhangjiakou has acted to promote ice and snow
sports, upgrade its ice and snow sports facilities and strengthen
related industries, in a bid to attract more and more people to join
various sports. (Photo by Wu Diansen/Xinhua)
In
a year that saw global sports events postponed or canceled, the sports
industry in China faced severe challenges, but also opportunities as
people's awareness of fitness grew.
BEIJING, Dec. 29 (Xinhua) — The year 2020 was a mixed blessing for China's sports industry.
Before
the COVID-19 pandemic, the sports industry was on a fast track of
steady growth. According to statistics from the China General
Administration of Sport, the total size of the sports industry grew at
an average annual rate of 15.9 percent, and the added value grew at an
average annual rate of 22.4 percent from 2015 to 2018.
However,
the sudden outbreak of the COVID-19 epidemic has had a huge impact on
China's sports industry. Almost all major domestic and international
sporting events were rescheduled or canceled in the first half of the
year. People were reluctant to go outside, and most sports companies
struggled to do business. Some didn't survive.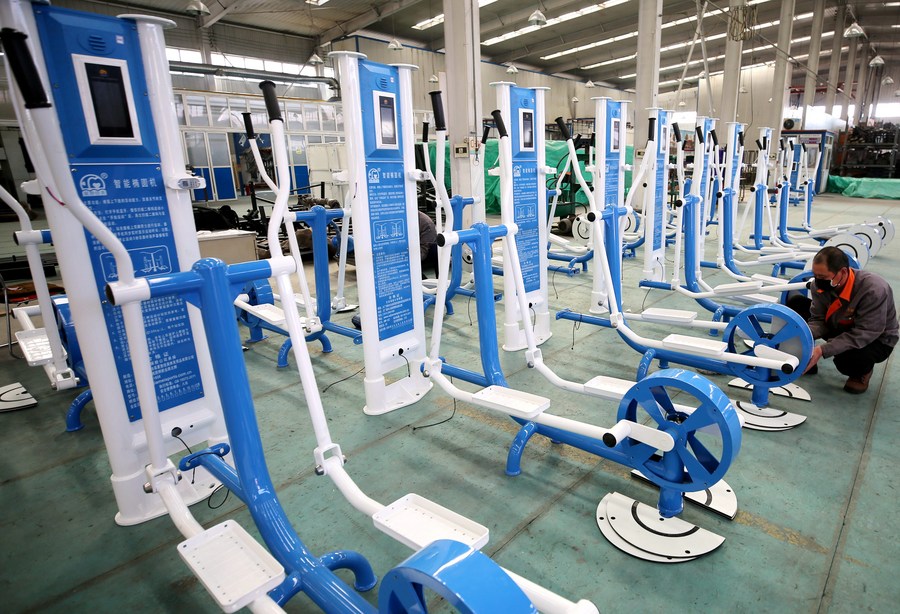 The
staff of a sports facility company in Langfang, north China's Hebei
province, assembles exercising facilities on March 24, 2020. (Xinhua)
According
to a research report of 2020 resumption of work in the sports industry
in Jiangsu province released by the Jiangsu Province Sports Bureau, all
of the 116 surveyed sports venues closed for nearly three months, 125
fitness and training companies closed for three and a half months, and
sports supplies manufacturing enterprises closed for about a month and a
half.
All
seven ski resorts in Chongli district of Hebei province were suspended
at the beginning of this year, and Thaiwoo Ski Resort was one of them.
Nie Ningning, vice president of the ski resort, described this as the biggest crisis since its opening.
"Before
January 18, we had an average daily income of two million yuan (about
306. thousand U.S. dollars), an 80 percent increase over the same period
last year," recalled Nie. But good days didn't last and the huge
maintenance costs added a lot of pressure.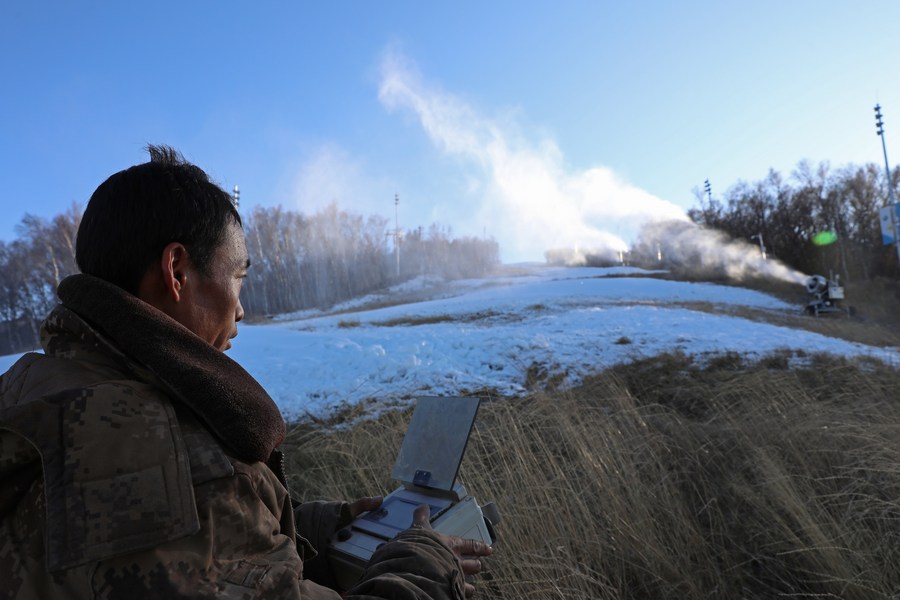 A staff member
at Taiwoo Ski Resort operates the ice-making machine to get ready for
the skiing season on October 17, 2020. (Photo by Wu Diansen/Xinhua)
Several
local governments provided supporting measures to the resumption of
work, helping the sports companies survive the difficult period. Some
provinces and regions issued sports consumption vouchers to boost the
rapid recovery of the sports consumption market.
Chongli
District introduced seven specific measures, such as tax cuts, and
water and electricity subsidies, to help the ski resorts to tide over
the difficulties. Some ski resorts are also digging in the summer
market, looking for a turning point.
Thaiwoo Ski Resort successively hosted a series of activities from July to October.
"Although
the summer operation period was three months shorter than usual, our
summer revenue is basically flat with last year," said Nie.
The
new snow season also had a good start, as the number of visitors and
revenue in November increased by more than 50 percent, compared with the
same period last year.
"Everything is in order, and I believe the new snow season will be a good turnaround," said Nie.
Coaches
at a fitness club in Suzhou, east China's Jiangsu province, had an
outdoor demonstration class on May 22, 2020. (Xinhua/Han Yuqing)
The epidemic also made more people focus on fitness and health, which helped boost the sales of fitness equipment.
According
to the 2020 Research Report on Public Fitness Behaviors and Consumption
released in September, fitness behaviors and consumption related to
sports goods at home all increased significantly.
The
total profit of the home fitness equipment industry reached 610 million
yuan from January to May, up 50 percent year-on-year, according to
statistics from relevant institutions.
"The
sales of fitness equipment has been increasing. According to the Suning
platform, sales of dumbbells, hula hoops, and yoga mats increased by
more than 300 percent over the same period of 2019," said Liu Fumin,
director of the Department of Sports Economics of China General
Administration of Sport.
Liu
is confident in the future. "The sports industry has been influenced,
but at the same time, the Chinese economy is still moving ahead, and the
Chinese sports industry is still developing," he said.
"I'm sure that the sports industry will play a more important role in the Chinese economy in the future."
About Xinhua Silk Road

Xinhua Silk Road (en.imsilkroad.com) is the Belt and Road Initiative (BRI) portal. China's silk road economic belt and the 21st century maritime silk road website, include BRI Policy, BRI Trade, BRI Investment, Belt and Road weekly, Know Belt and Road, and the integrated information services for the Belt and Road Initiative (BRI).

Source: Yearender: mixed blessing for Chinese sports industry in year 2020