There are 96Addressable RGBW/WWALEDs per meter, and 10mm wide for the 96LEDs/meter, DC5V input, and you can control each LED individually! Yes, that's right, this is the digitally-addressable type of LED strip. You can set the color of each LED's red, green and blue component with 8-bit PWM precision (so 24-bit color per pixel).
The LEDs are controlled by shift-registers that are chained up down the strip so you can shorten or lengthen the strip.
Only 1 digital output pin is required to send data down.
The PWM is built into each LED-chip so once you set the color you can stop talking to the strip and it will continue to PWM all the LEDs for you.
The SK6812 is very similar to the WS2812B, and it can be used as a drop-in replacement in most applications because it features the same interface and color order (so LED strips based on the SK6812 and WS2812B can be chained together). The main difference between the two drivers is that the SK6812 has voltage-independent color and brightness over a wide voltage range, which means that the colors of the LEDs should not be affected by a drop in the supply voltage as much as they are on the WS2812B.
SK6812 Chips Specifications Download

Light strips advantages

With plasticity, can be free to bend the shape — fixed in the uneven surface, easy to install (using the 3M self-adhesive) and other advantages;

With waterproof, in case of high temperature and low temperature does not change color, low voltage long life, and other advantages;

With bright colors and soft light (1LED lights can be composed of a loop — every 1 light can be cut to use), energy saving and environmental protection and other advantages are the ideal replacement of neon products (than the neon energy saving 70%), It is decorative contours. Making a variety of modeling the ideal lighting.
Specifications
Input voltage: DC5V
Power: 38.4watt/meter,192watt/roll
LED Chip Model: SMD 5050
LED resource: SK6812 LED
Q'ty of LED:96LEDs/Meter Available
IC Type: SK6812IC(1 IC drives 1 led chip)
Q'ty of IC: 96pixel /Meter
Cuttable: every LED is cuttable
Dimensions:L500cm(196.85 in ) x W1.0cm(0.39 in ) x H0.25cm(0.1 in )
Color Temp(K): RGB full color
FPC color: WHITE/BLANK PCB
Protection rate: Non-waterproof or IP 65( gel coating) IP67 waterproof (sealed in silicone tube)
Colors: Full color RGB, dream color changing;
Grey scale: 256
Bits/color:8-bits/color;total 24bit for RGB color
LED wavelengths: 630nm/530nm/475nm
Average Life (hrs): 50000Hours+
How to connect and control
Similar to WS2812B LED strip, the SK2812 led strip has 3 wires for sending data – one V+ pin, one GND pin, and one data pin. That means you need 3 pins to control strip. Because the data is separated, you can use any processor speed or type to control these strips.an addressable RGB LED strip is a long flexible strand of LEDs each of which can be individually set to a certain color (hence: addressable). By varying the level of red, green and blue (RGB) per LED many color combinations can be made you can use any processor speed or type to control these strips,you can use any microcontroller or microprocessor, including Arduino, Raspberry Pi, BeagleBone, Propeller, SparkCore, and any 'raw' microcontrollers/microprocessors to control the strip.
This strip comes as a single full meter with a 3-pin JST SM connector on each end. Every LEDs segment can be cut. Solder to the 0.1″ copper pads and you're good to go.you can also connect strips together to make them longer. To power this strip, you need a 5V power supply.
This is our recommendedSPI and Programmablecontrollerlink. We are a professional lighting system company, you can tell us your lighting project requirements, we will recommend the most reasonable lighting solutions for you. If youneed a customized lighting scheme, please feel free to contact me.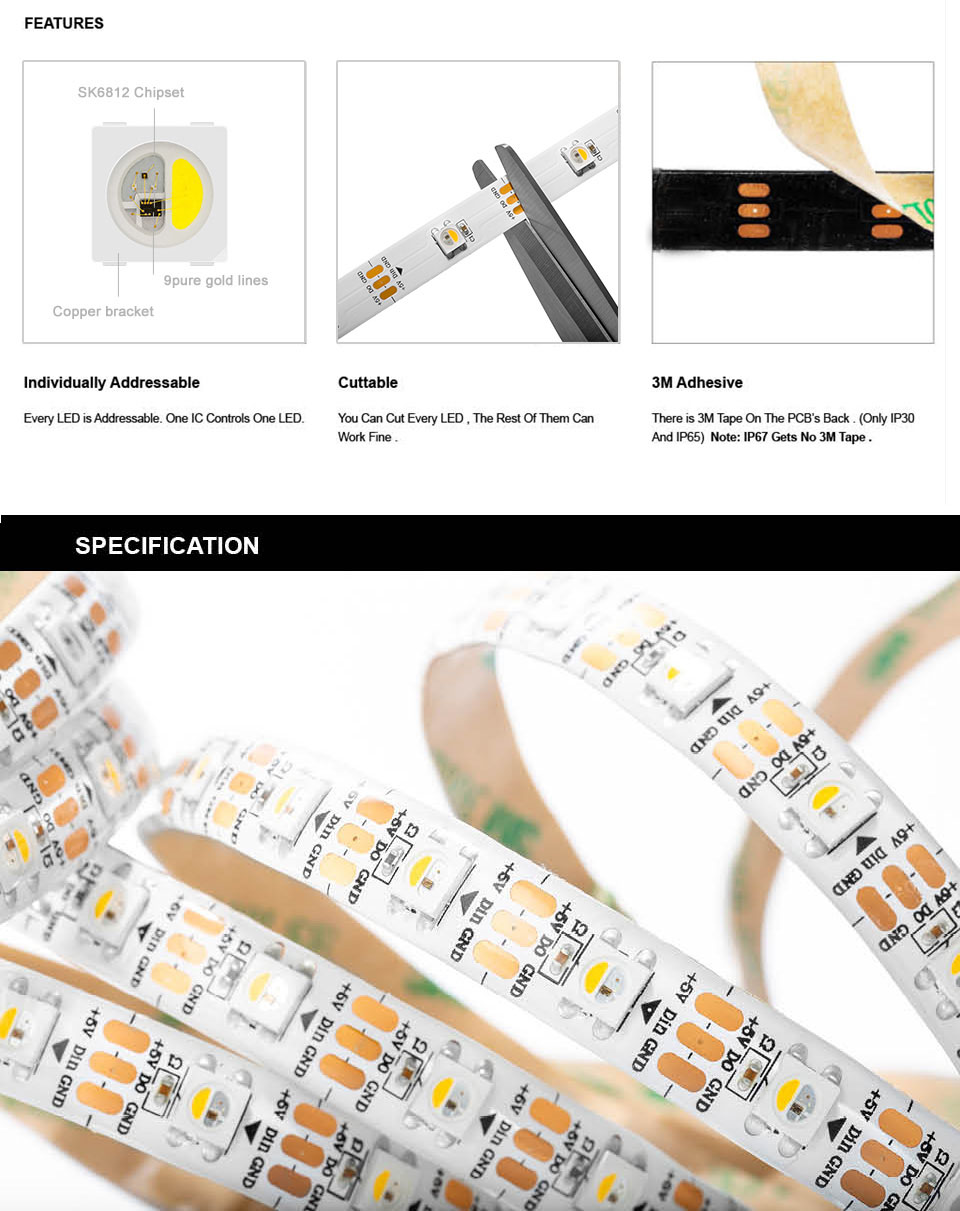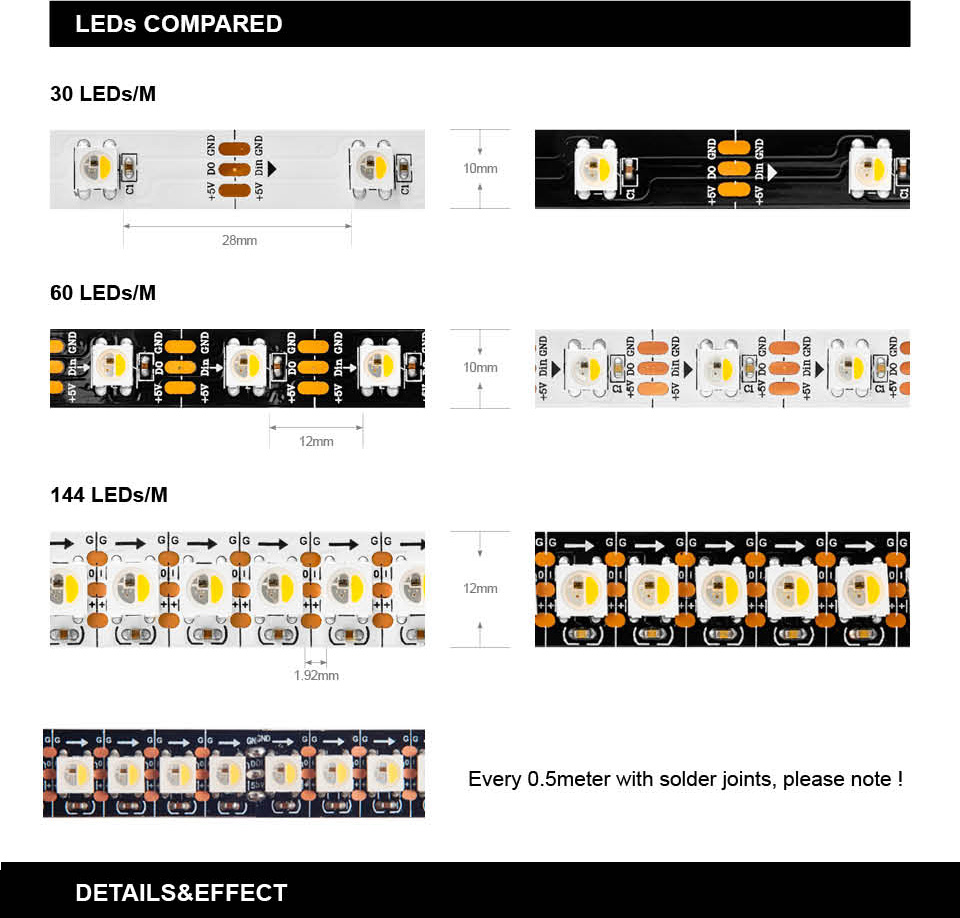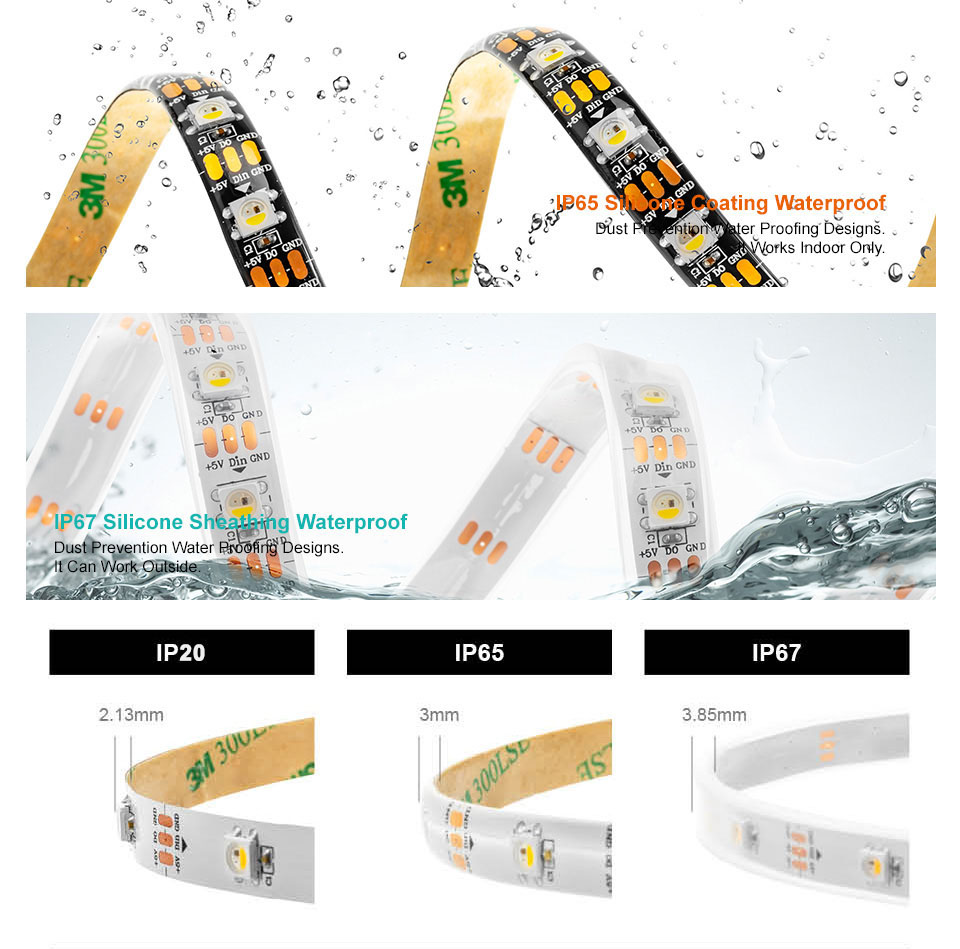 Waterproof Level Description

IP20Non-waterproof(The PCB [Printed Circuit Board] surface of the bare, with a self-adhesive back, For Indoor);

IP65Waterproof(Epoxy cover waterproof, Epoxy Resin, PCB surface is encapsulated with plastic Gel, with self-adhesive 3M back, For Outdoor & Indoor) ;

IP67Waterproof(Silicon sleeve waterproof, PCB is encapsulated with silicon tube, with a plastic fastener, better waterproof, For Outdoor);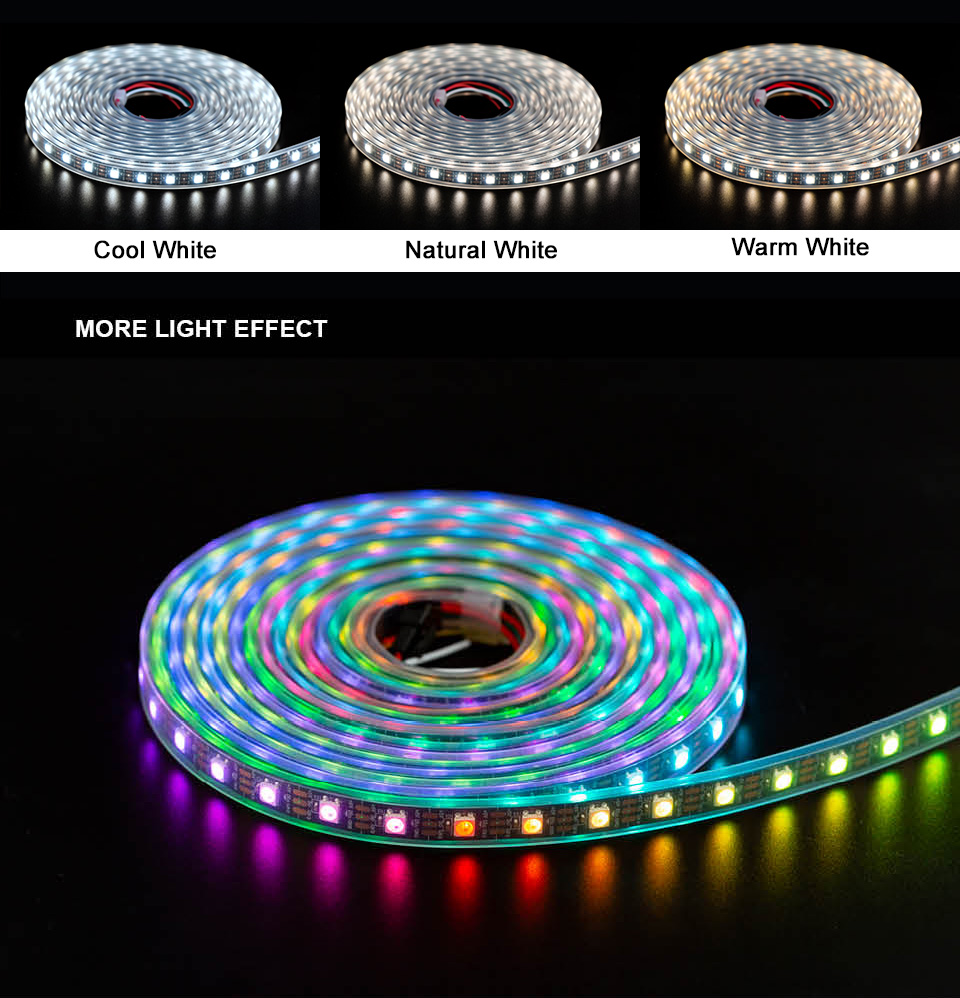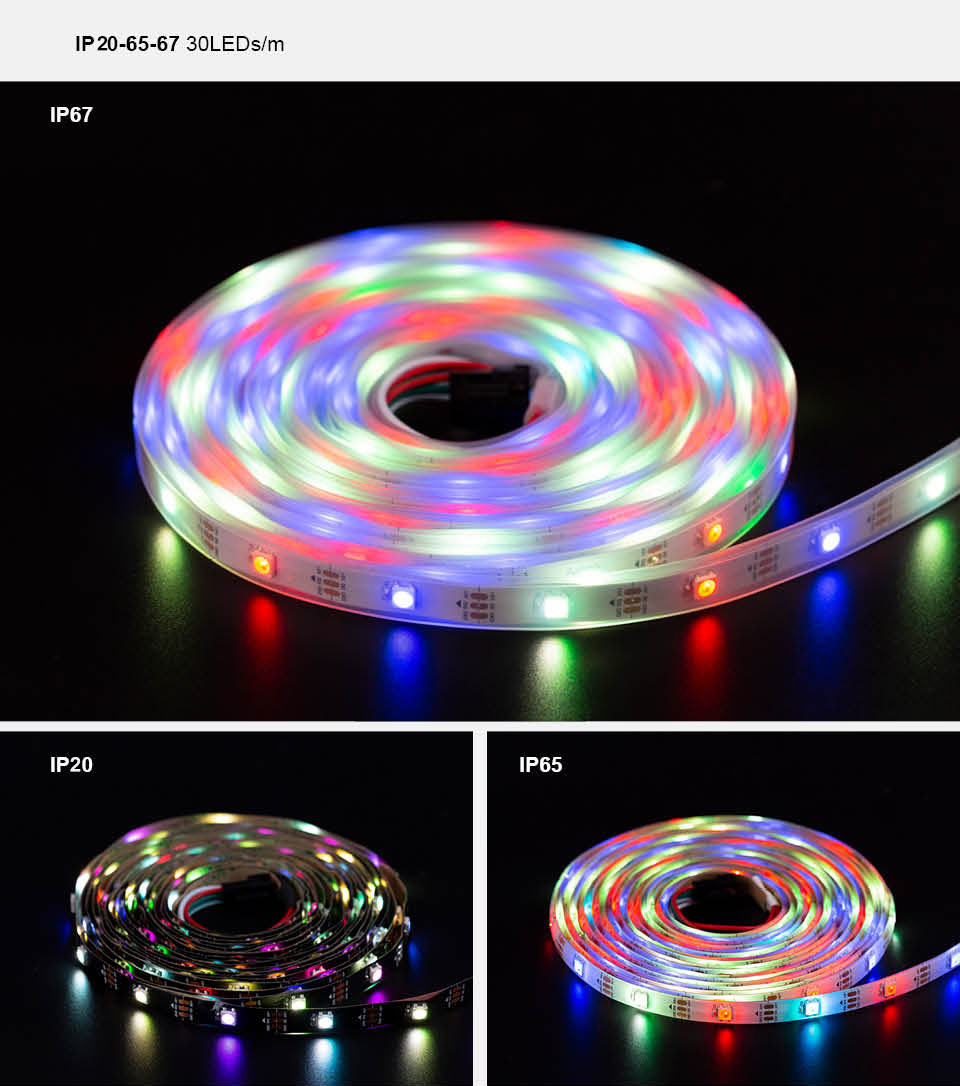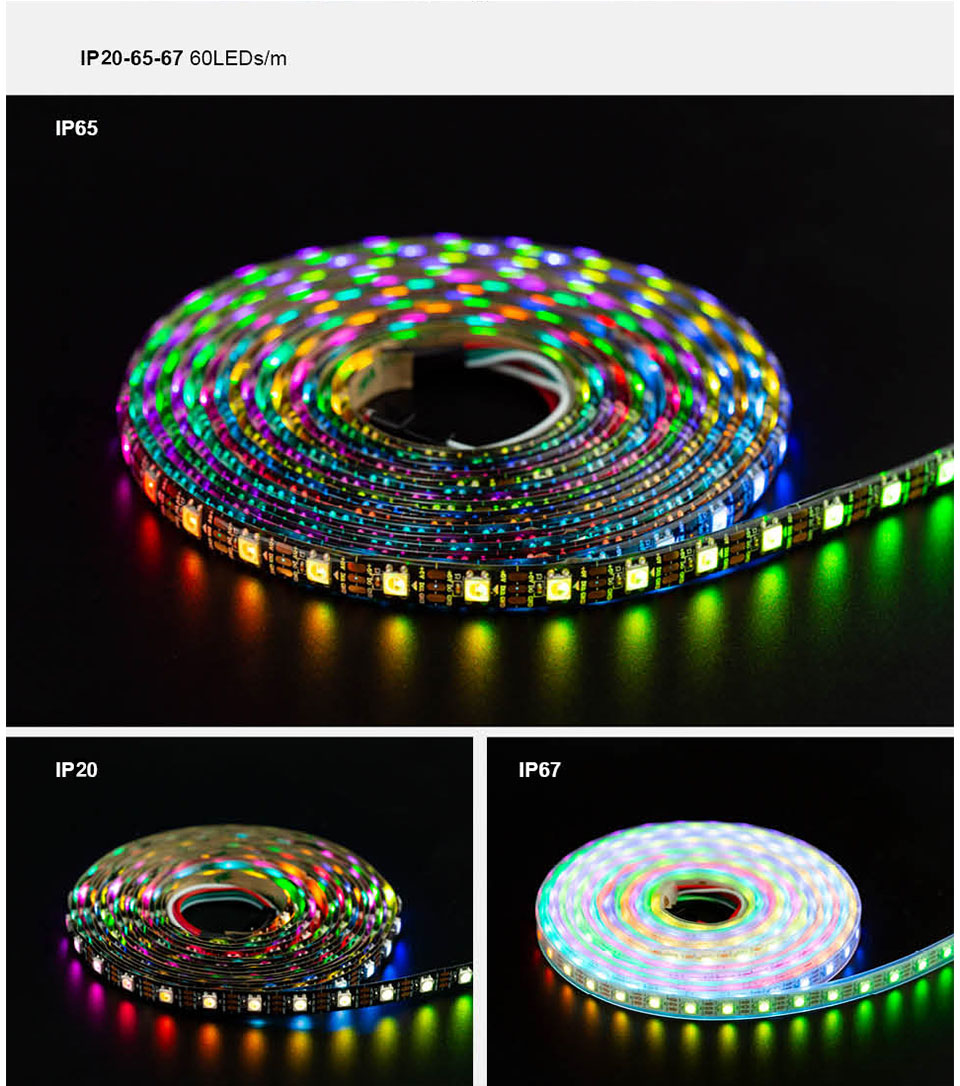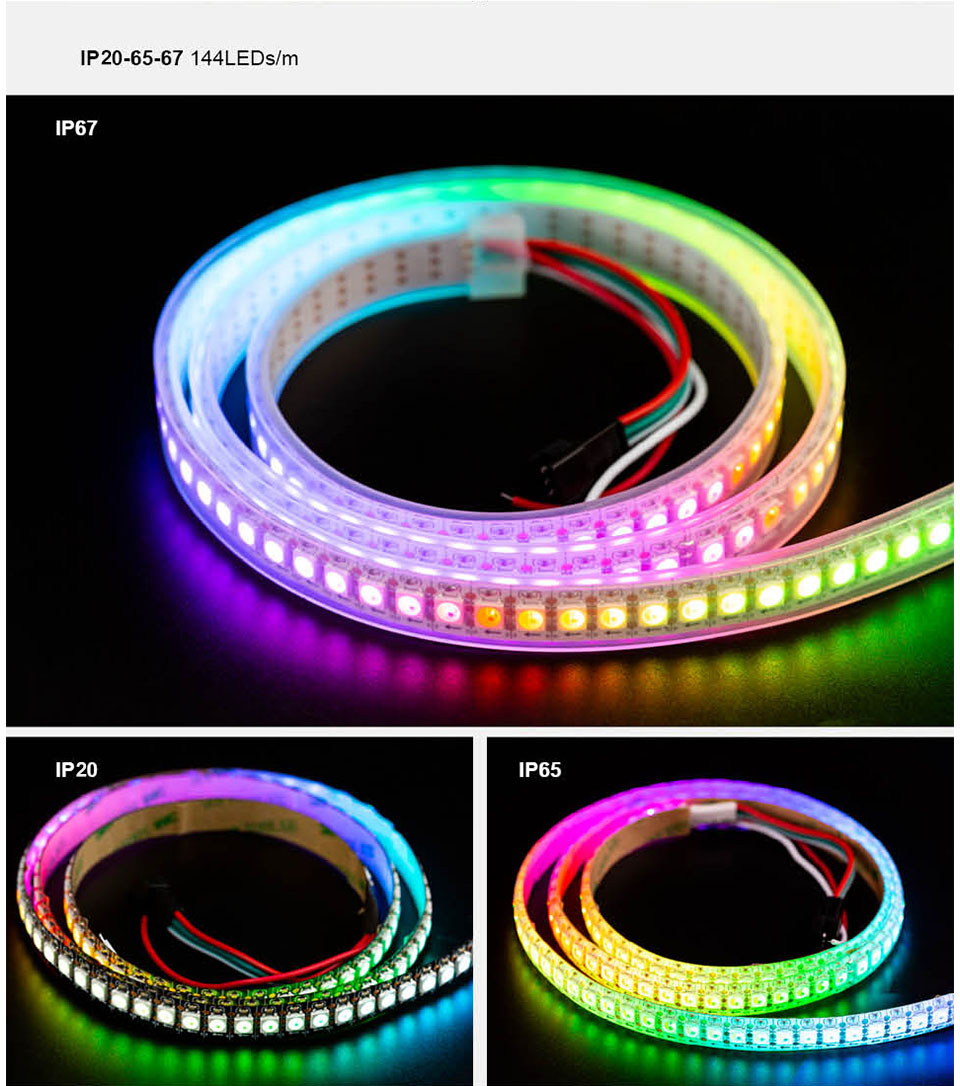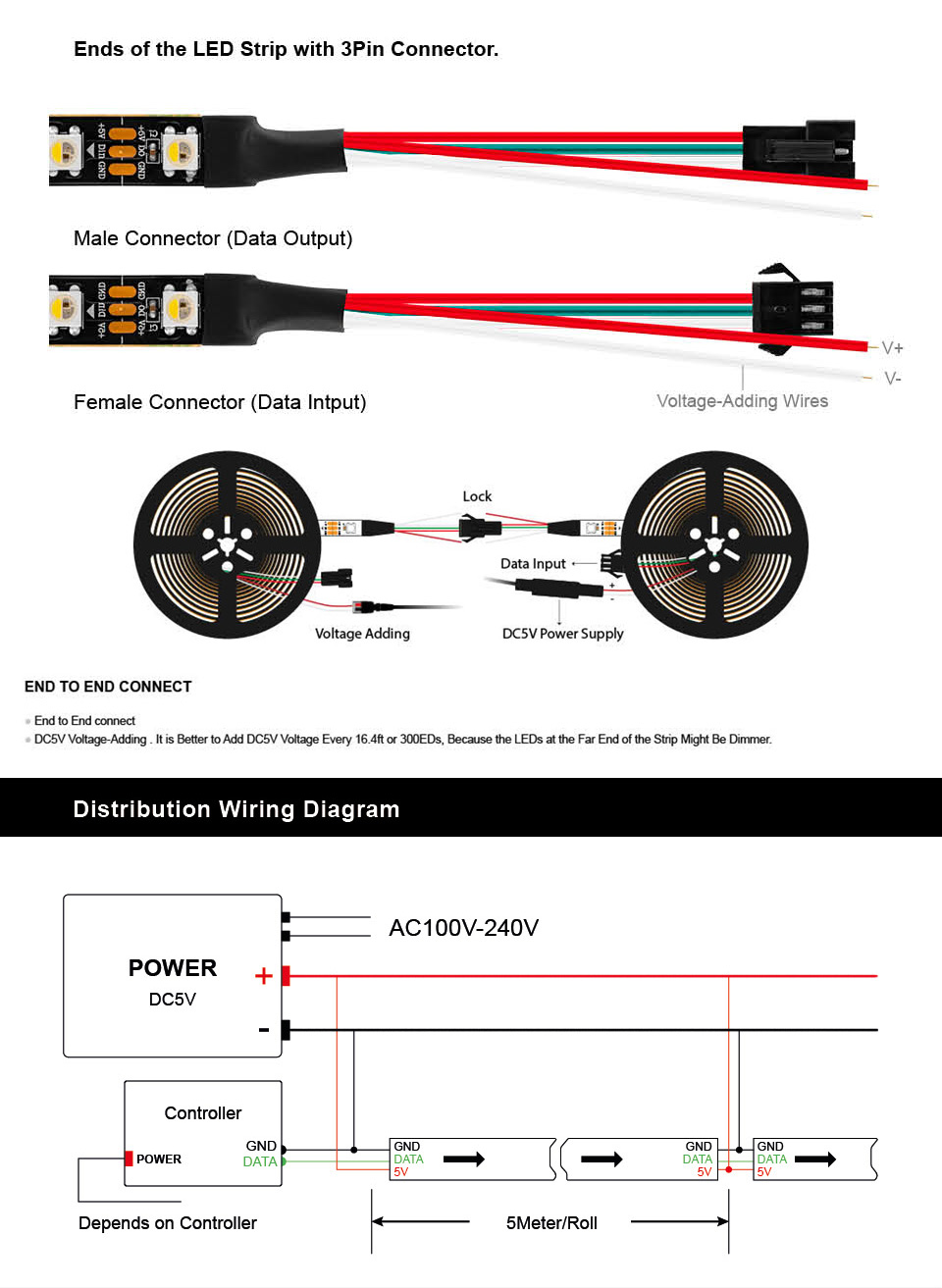 Applications
These digital Addressable LED Strips are Applicable to people who would like to pursue fashion and romance, for individual creativity and the new apartment decoration, as its soft, light and thin features very suitable for DIY personal space.
LED programmable digital screen
Hotels decoration lighting
Backlighting decoration
Concealed lighting, Cove decoration
led wall, advertising board
Outdoor advertising signs,
Hotel, KTV, bars,
Wedding party lighting,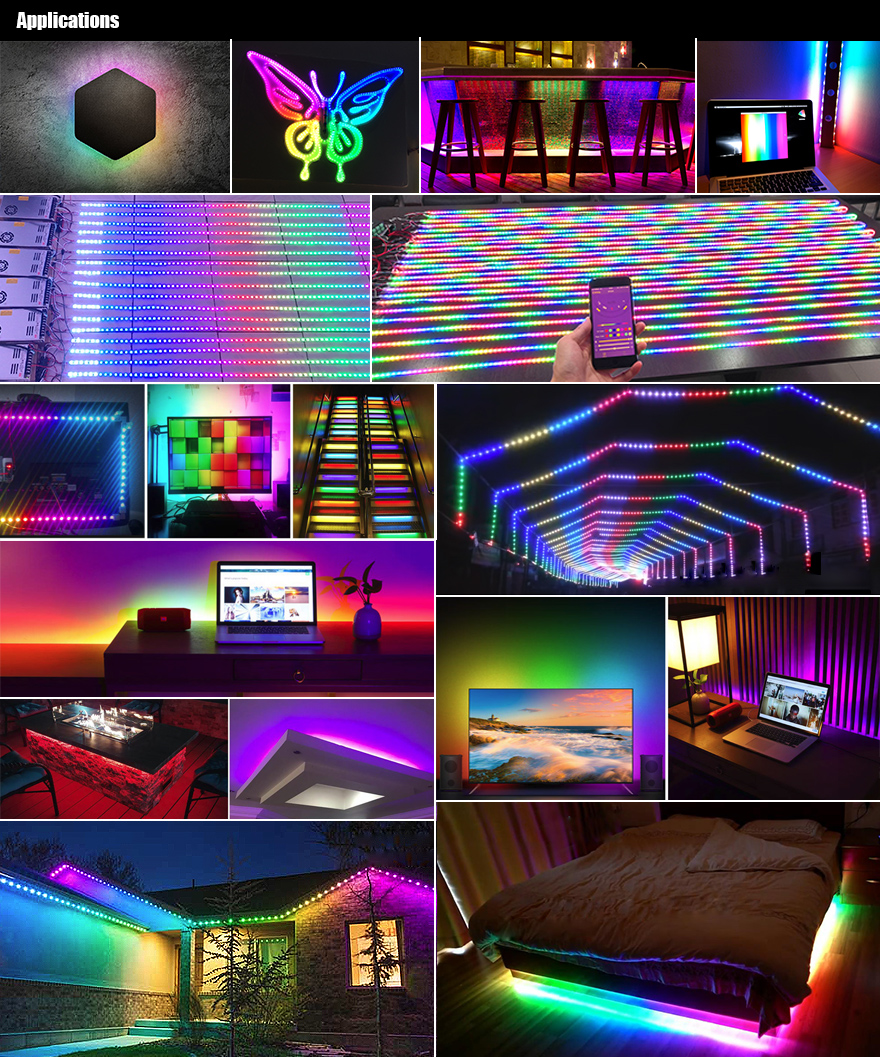 Note

The BLACK ARROWS on the strip tell the transmitting direction of the signal. When running more than one roll of the strip after the Dream Color Controller, the following rolls of Dream Color Strip should be run strictly follow the Arrow point direction. If connected oppositely, the strip will not work

Electronic products to ensure that there will not be after-sales quality disputes, please use qualified manufacturers.

LED lamp bead detection technology National leading: independent patent testing equipment in 3 minutes can be measured lamp light failure, color, life and other important electrical parameters, the machine dead light rate of fewer than one hundred thousandths, finished lamps Anti-static up to 20KV, the factory solemn commitment to light bar warranty for 2 years.

Reduce more costs for customers: managers before the technical-based electronic components traders, the use of components without intermediate links, both genuine and inexpensive.

Waterproof to achieve the highest IP68 level: independent waterproof patented technology. Outdoor products in the hottest Hainan Sanya, the coldest Shenyang, the factory's fish tank all-weather two years to run, there is no water phenomenon.

ISO9001 / 2 management model: to ensure that each product 100% qualified factory.

Service-oriented: by the number of electrical professional technicians composed of the installation of the steering group, at any time to listen to customers dispatch. The products have been sold to the United States, Britain, Italy, India, Russia, Iran, Nigeria, Israel, and other countries and regions. The company through the CCC certification, CE certification, ROHS recognition, PCC, ISO9001, SGS, UL certification, and other domestic and international related industry certification.

Source: SK6812 RGBW/WWA 96LEDS/M DC5V 10MM-Wide Digital Intelligent Addressable LED Strip Lights – 5m/16.4ft per roll