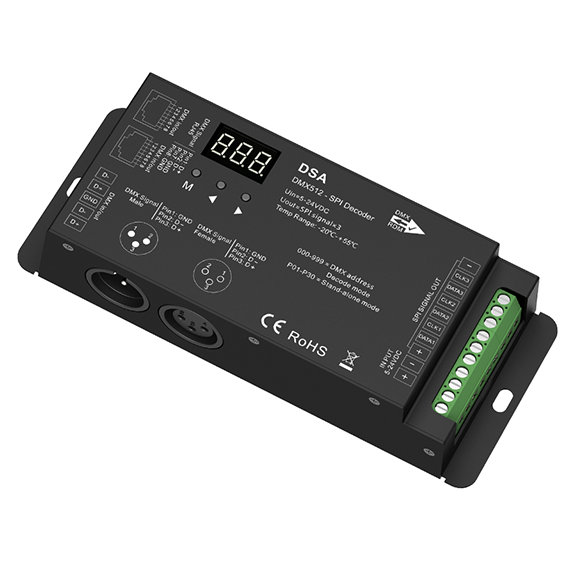 The SPI LED controller can work under DMX mode or RF mode to control a variety of digital IC LED strips. While under DMX mode, it works as a DMX decoder and can be compatible with DMX512 masters. While under RF mode, it receives RF signal and can be compatible with all kinds of RGB RF remote controls, meanwhile it also can be WiFi controlled by mobile phones through WiFi-relay controller.
Feature


DMX512 to SPI decoder and RF controller with digital display.


Compatible with kinds of digital IC LED strip, IC type and R/G/B order can be set.


DMX mode / Stand-alone mode / RF mode.


Standard DMX512 compliant interface, DMX address display, set dmx address freely.


Under stand-alone mode (no need RF remote), have 32 kinds dynamic mode, include horse-race, chase, flow, trail or gradual change style, adjustable speed and brightness.


Under RF mode, match with a variety of RGB remote, remote distance up to 15m.


Can be WiFi controlled by APP installed on IOS or Android mobile devices while working with WiFi-Relay controller.


For DSA, three kinds of DMX signal input method, have XLR3 and RJ45 port. Wiring diagram
Specifications Download