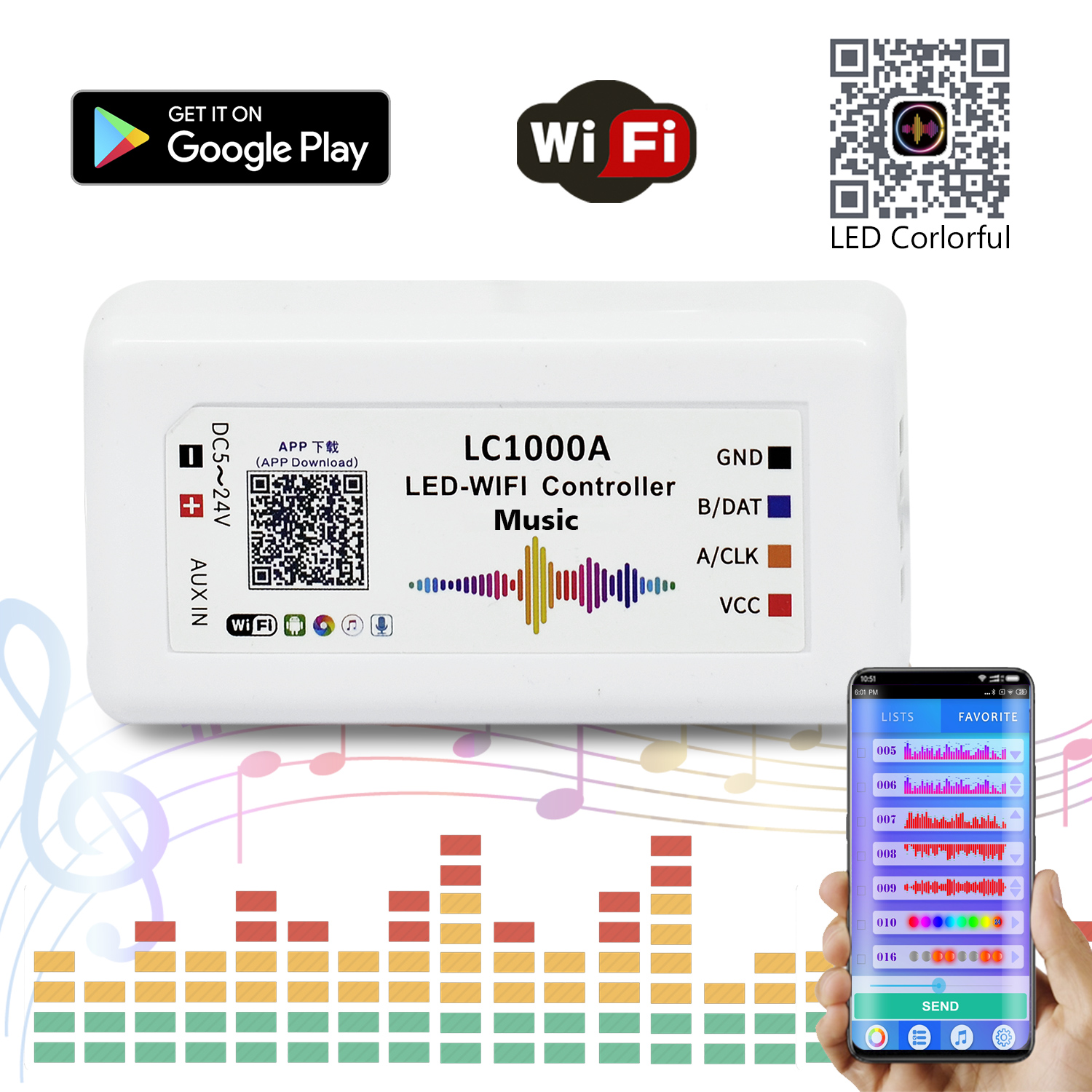 This 2019 latest LED-WiFi fantasy color music controller is based on the traditional infrared, RF technology controller foundation, it gave birth to the market and customer needs, This special Engineering level controller is integrated with the latest wi-fi technology on the market and is designed for decorating Lighting, lighting, and other fields. It makes LED control more convenient and more substantial. We can use the Android system phone to install the control software, and it can be downloadon Google Play, then we can control the LED, which is the desire of each customer.
This controller support DC7-24V, the maximum of points number is 1024*1 pixels, the speed is 32 levels adjustable, the sequence is RGB arbitrary setting, and it has multiple music spectrum, input content, and more than 250 dynamic effects. The play mode of the controller including single play, custom list loop, and favorites list loop. You can control the strips by MIC or line input. And this controller has autosave config, so don't worry about losing the data.
Use WiFi technology can make our control range wider, can get rid of narrow space constraint, in the building can control more than 5-10m.
This connector structure belong to the drawer structure, with 1 output channel, the device interface of power supply and LED are together, four interfaces GND /DATA/CLK/VCC is connect led equipment, the first interface connects the anode V- of power supply, the last interface connects the cathode V- of power supply. This controller now can support more than 27 kinds of SPI strip in the market,for DC5V/12V/24VLPD6803, TM1803,UCS1903,WS2811,WS2812B,WS2813,WS2815,TM1812, TM1809,WS2801, TLS3001, TLS3008, P9813,DMX512, IC dream color led strip lights orled dream color string module lightsorled pixel screenorLED Guardrail Tube lights.
The APP built-in single color ring and you can select any color, and built-in 252 kinds of color changing and chasing modes and kinds of Spectrum music modes, you can connect speakers and cell phones through a 3.5mm audio jack,If you want to learn more, please watch our test video.
Product Specification Download

APP downloadfor Google Play

How to solve the problem after resetting the APP password
Do not uninstall the installed APP, directly install the following APP and then overwrite the original APP, then enter the APP settings interface, (donot click OK button) long press the REST button for 3-5 seconds, then the password box and network name will be displayed. Secondary settings
The new version V1.6.18.2 was released to solve the abnormal flashback of some phones or tablets when V1.0 entered the Set interface.
LED Colorful.apk- Password: 88888888
(The APP supports the latest version of Android system through our tests, but you have to make sure your phone is not tampered with by a third-party system, or the system has been developed(ROOT).)
How to set:
1. According to the wiring diagram connected lamps and connected to power.controller lights flashing.
2. Scan QR code to download and install.
3. Coneect to the WIFI hotspot(Start with "LC") and enter the default password: 88888888.
4. Select wiring type.
5. Set LED color order, observe the color of the current LED color and click the correspongding "R" "G" "B" BUTTON.
6. Set the number of points, set height and width separately.
WS2812B 5V 30*22cm LED Pixel Panel
How to make a WS2812B Addressable WiFi Music Sunshine LED Pixel Strip Light For Christmas Part Show
WS2812B 5V Flexible LED Strip Lights Test Video:
TM1812 24V Flexible LED Neon Lights Test Video:
WS2812B 5V 30LED/M LED Strip Lights, 13 x 16.4 feet Test Video
250feet WS2811 DC12V Non-waterproof LED Strip Light Test Video:
WS2812B 5V 16*16mm LED Pixel Panel. Spectrum Test Video:
WS2811 12V 50*25mm LED Pixel Panel. Spectrum Test Video:
24V 20m/roll LED Neon Flex lights
Product Specification
Item Type: Dream color LED-WIFI Music Controller
Model: LC1000A
Size: L85mm X W45mm X H22mm
Input Voltage: DC7~24V
Can Be Control: DC7V/12V/24V Addressable LED Strips
Number of pixels: 8~1024 pixel
Speed Control: 32 adjustable
Effect: Multiple music spectrum + input content + more than 250 dynamic effect
Memory: Automatic memory function
LED sequence: RGBArbitrarily set
Control mode: APP
Music Control: MIC or Line input
Play mode: Single play + custom list loop + favorite list loop
The chip supported as below: (DC5V/12V/24V)
1. One signal wire- TMXX: TM1804/TM1804B/TM1809/TM1812/TM1826/TM1923/TM1934/TM1913/TM1926/TM1914/TM1914A/TM1916/TM1918/TM1814-RGBW
Other: IN1002/INK1003/WS2811/WS2812/WS2813/WS2815/UCS1903B/UCS1903N/UCS1909B/UCS1912B/UCS2903B/UCS2909B/UCS2912B/UCS2904B-RGBW/SM16703/SM16703P/SM16704P/SM16709P/SM16712P/APA-102/P9813/P9823
2. Two signal wire: WS2801/LPD6803/LPD8806 DMX512-1990 standard protocols
LED WIFI Controller (Model: LC1000A)
Size

L85*W45*H22mm

Input voltage

DC7-24V

Number of pixels

1024 pixel *1

Speed Control

32 adjustable

Effect

252

Memory

Automatic memory function

RGB sequence

Arbitrarily set

Play mode

Single play + custom list loop + favorite list loop

Control mode

APP

Music control

Environment music/line input

Support chip

TM1804 / TM1804B / TM1809 / TM1812 / TM1923 / TM1934 / TM1913 / TM1926 / TM1826 / TM1829 / TM1914 / TM1914A / TM1916 / TM1918 / TM1814-RGBW / UCS1903B / UCS1903N / UCS1909B / UCS1912B / UCS2909B / UCS2912B / UCS2903B / UCS2904B-RGBW / WS2801 / WS2811 / WS2812 /WS2813/WS2815/GS8205 / GS8206 / SM16703 / SM16703P / SM16704P / SM16704PB / SM16709P / SM16712P / INK1002 / INK1003 / LX1203 / LX1603 / LPD6803 / LPD8806 / APA-102 / P9813 / P9823 / INK1504
Connection Diagram

This controller supports all IC models

The controller built-in 1024 pixels, can connect 3 rolls of WS2812B 5V led stripsor 10 rolls of WS2811 DC12V led strips,a 1to8 amplifier can magnify the signal by 8 times,
So an amplifier can be connectedover 3*8 rolls of WS2812B 60LEDs/m led strips,
two amplifiers can be connected over 6*8rolls of WS2812B 60LEDs/m led strips,

If you don't know how to use the amplifierto connected more than 1000 feet or how to connect the WIFI controller,

please feel free to contact us,sales@superlightingled.com
How to use Amazon Alexa to Control Wi-Fi Music Controller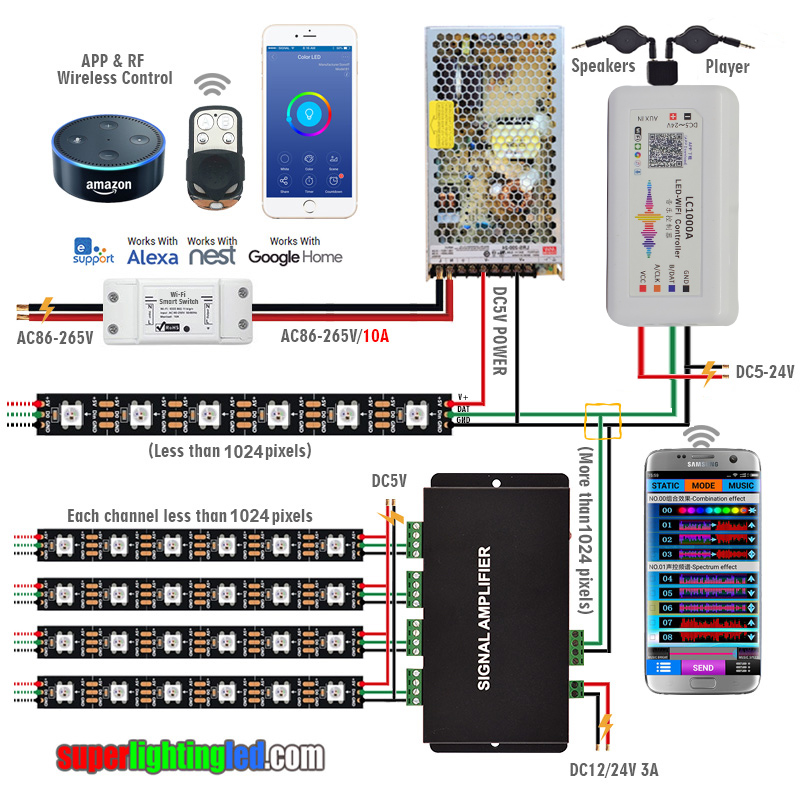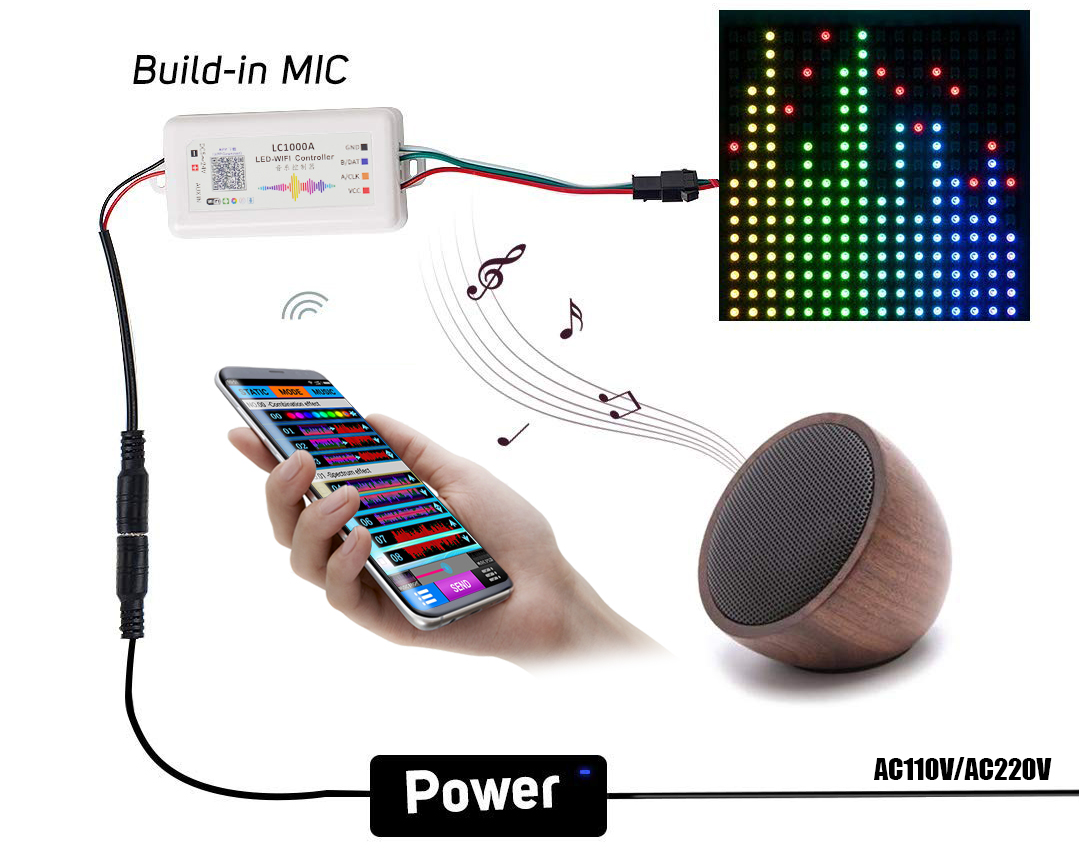 How to connect amplifier:
Signal amplifier(repeater) receives one-way SPI signal, output signal Symphony 8 control group, multi-group Symphony of dream-color striplight changes in effect; and an amplifier used for signal output via SPI, the theory can be cascaded countless signal amplifier.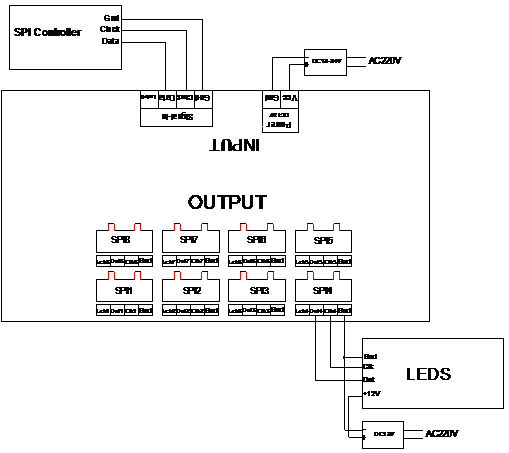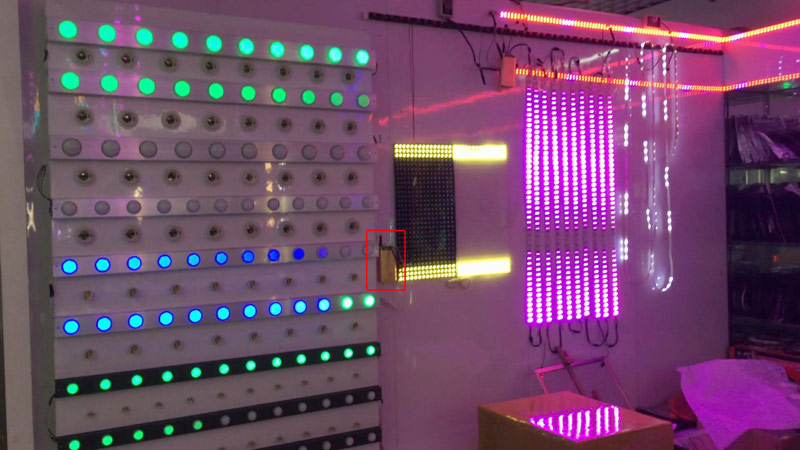 Applications
Interior Decoration: Club, bar, corridor, room, hotel,ledaquariumlighting,museum, Christmas, holiday, Retail LED lighting etc.
Exterior Decoration: Plaza, commercial buildings, parks, scenic spot, evening location, Sign illumination LEDs etc
Safety
Supply voltage of this product is 5~24Volts DC, do not exceed.
Shorting output wires my cause damage to dimmer.
Always observe proper polarity when connecting power and load.
For indoor use only – this product is not waterproof or weatherproof.
Note
QUICK and SLOW speed buttons will only work when the unit is in one of the color changing (dynamic) modes.
Connect according to the Wiring Schematic drawing.
Do not exceed 80% of Power Supply capacity when calculatingPower Supplysize to use in your system.
Package including
1 x led music controller
1 x 1 to 2 audio jack
1 x User Manual
1 x Packing box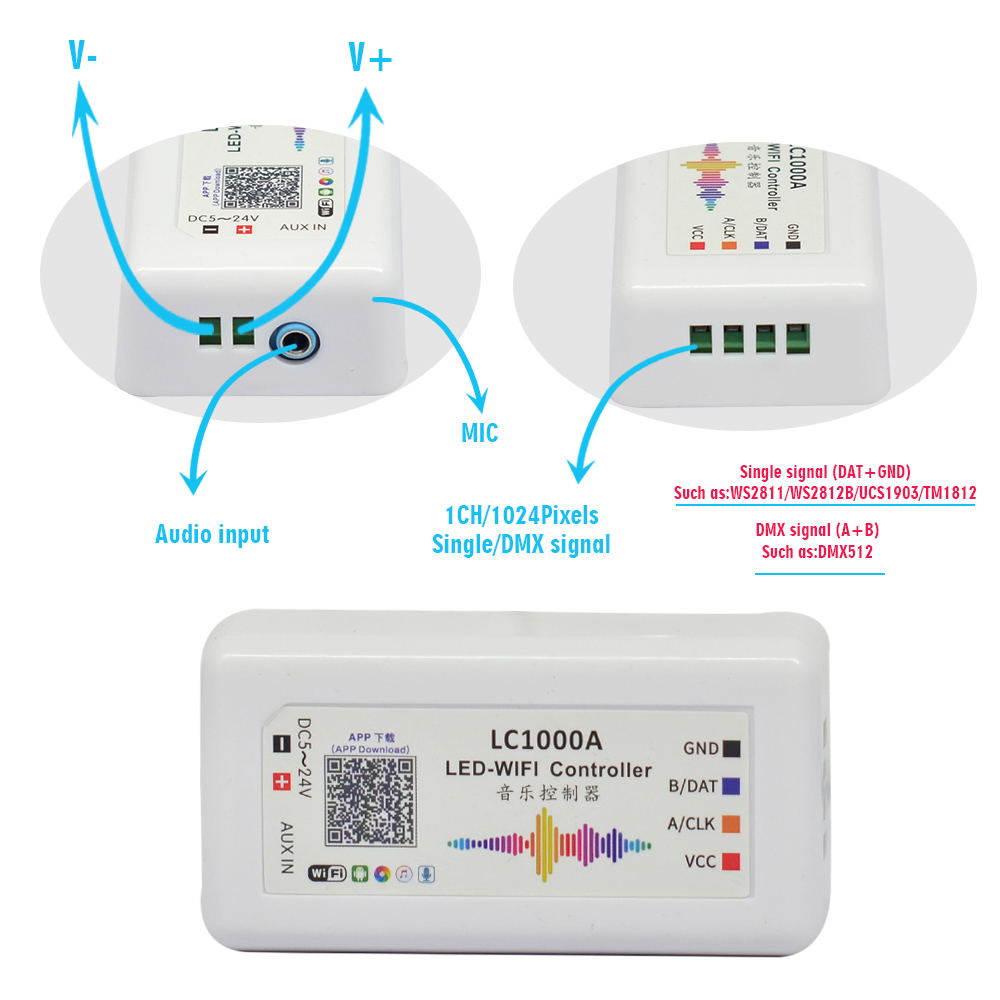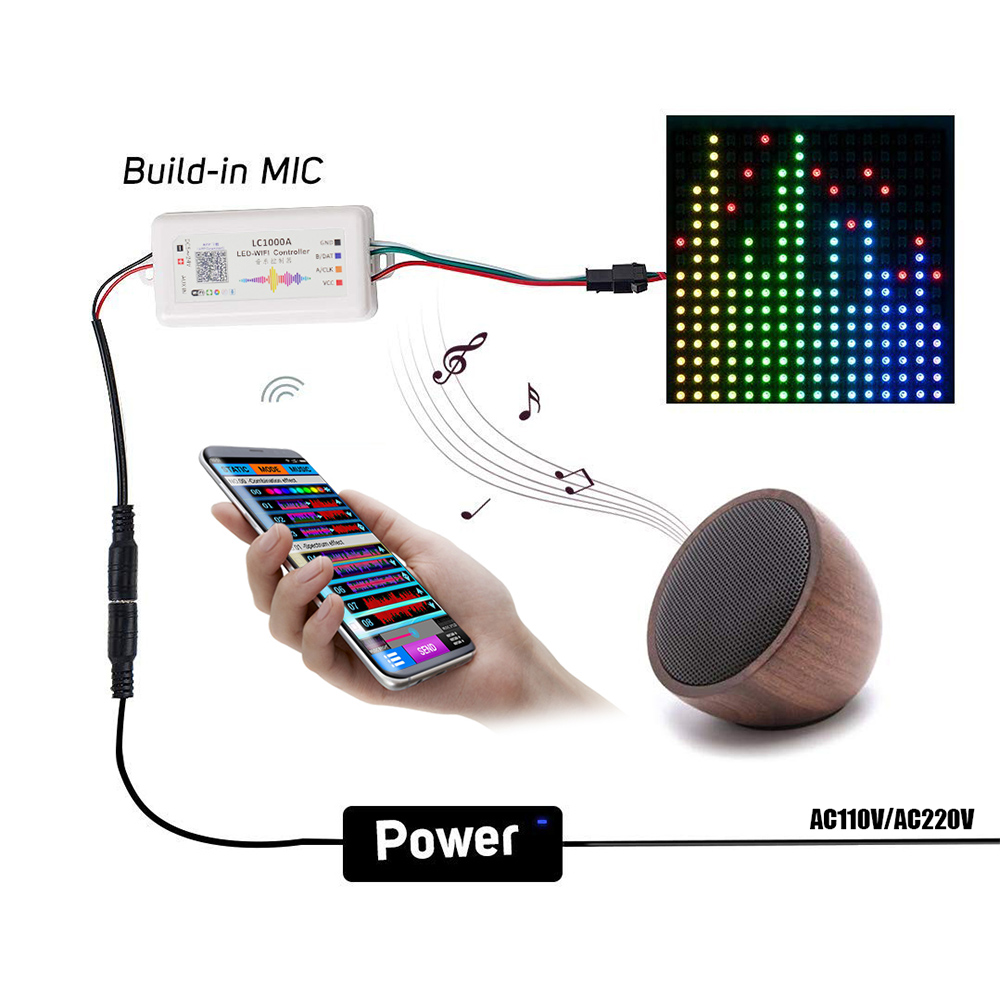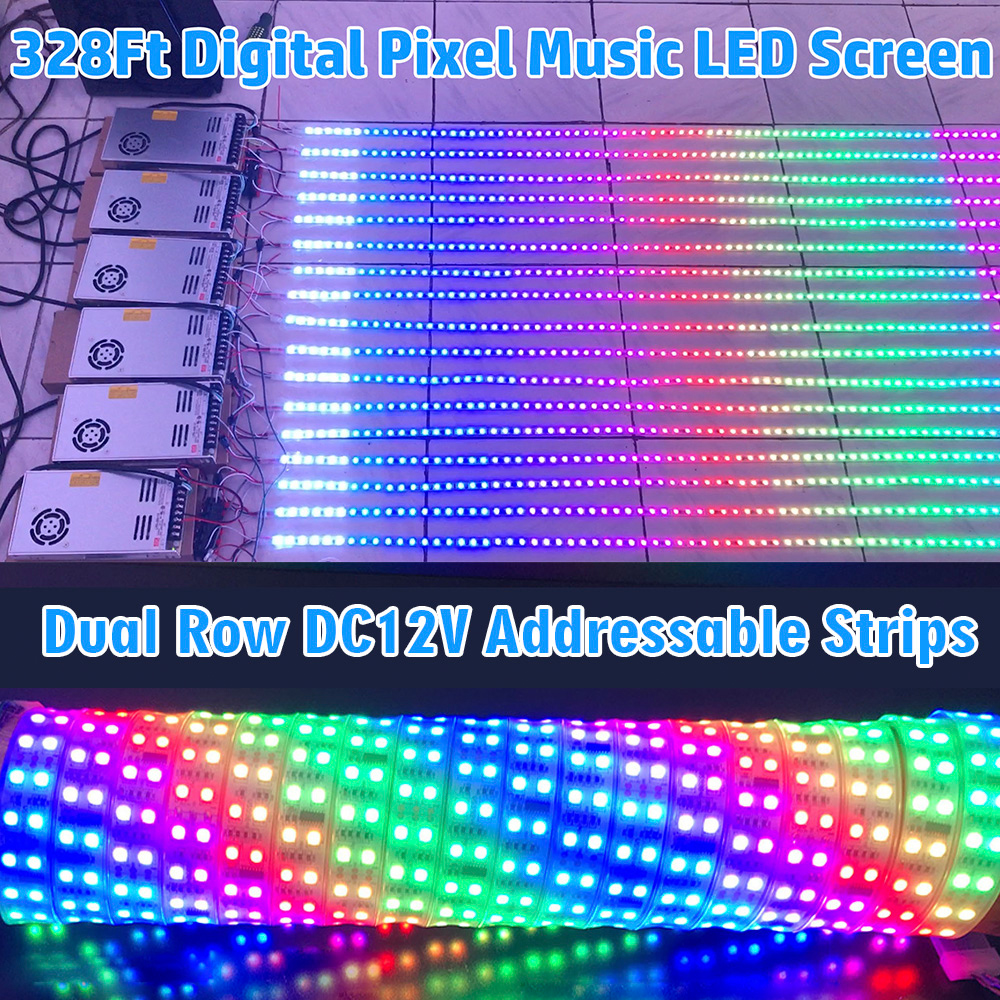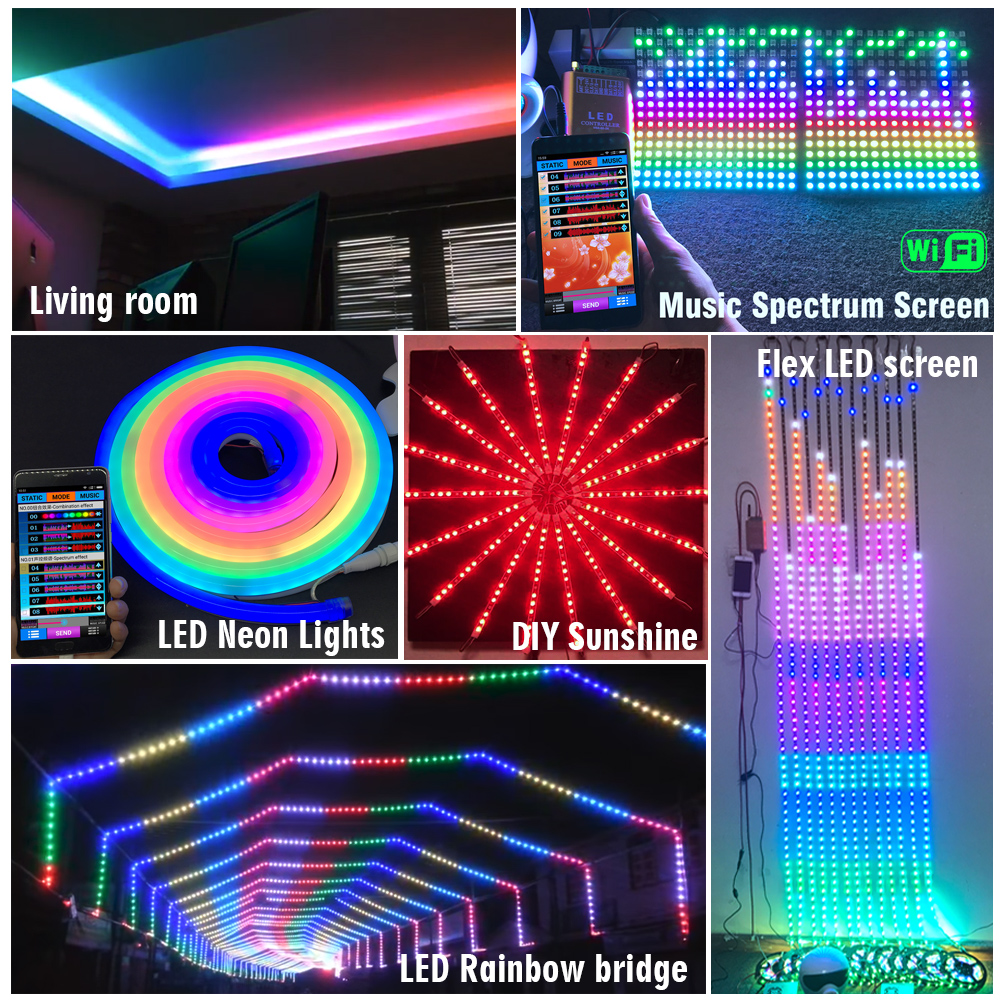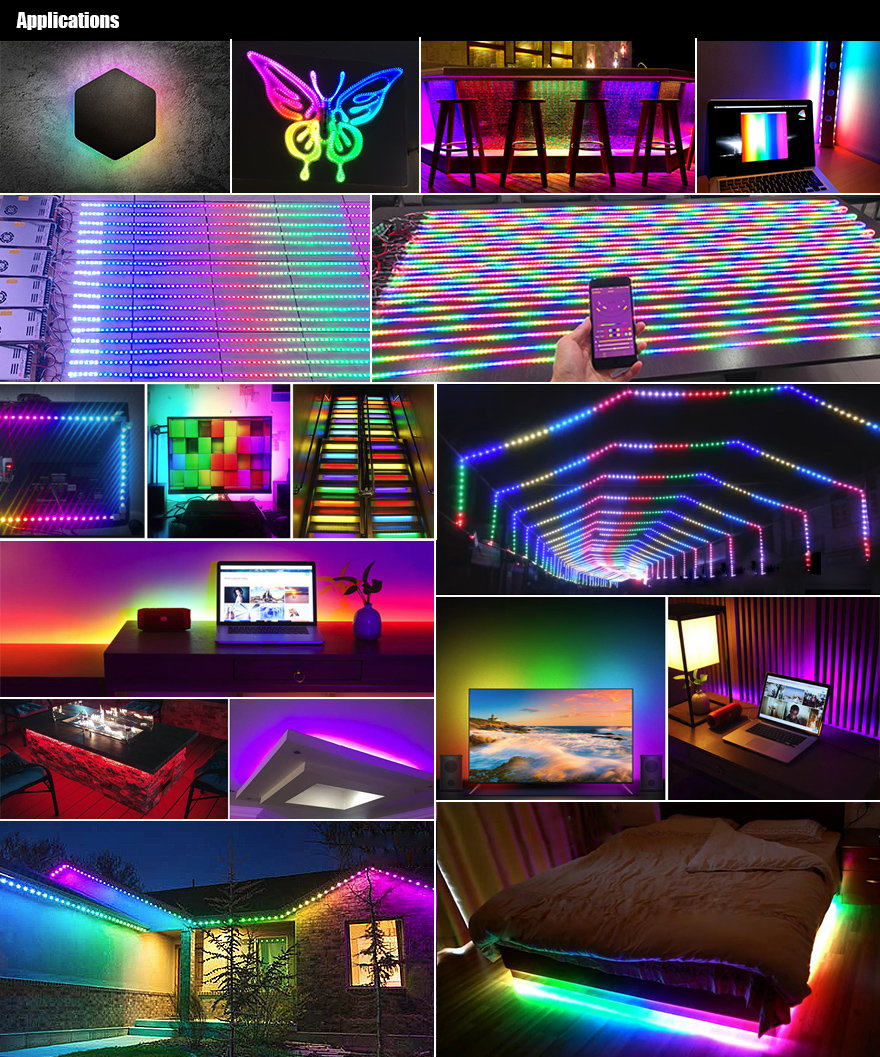 Source: DC7-24V, One Channel, 2019 Newest LED WIFI Music Spectrum Android Controller, For DMX512, LPD6803,WS2811,WS2812B, WS2801 Addressable LED Strip Lights, APP Surport Input Content, Google Play Download